High Productivity. Time Saving . Labour Saving. Easy for Operation.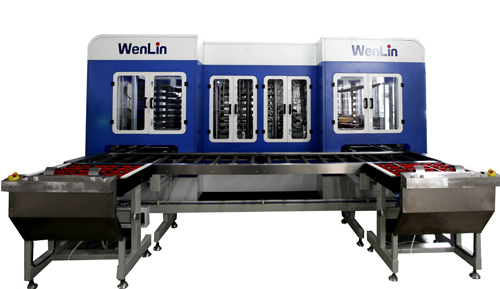 Intelligent Fully Automatic Laminator Machine Wenlin-Smartlam7500
Wenlin-Smartlam7500 IC ID card PVC sheet fusing machine
Brand:WENLIN
---
Specifications:600mm×750mm
---
Application range:WenLin-7500 high precise PVC sheet fusing machine is IPC control,high precision, high efficiency, This large format laminating machine suitable for PC PVC and other kinds of plastic. suitable for laminating large card making factory, card printing industry.
---
Heating tower Auto Feeding System:

● WL-7500 sheet fusing machine can feed the materials automatically, trays with laminated materials be conveyed to cooling tower automatically.

● WL-7500 laminator Feeding device goes up and down, automatic feeding and discharging transmission.

● For convenient second generation ID card making machine maintenance, feeding transmission system can be chosen to semi-automatic operation method.




Heating System:

● Electric heating, hot pressure 0-16Mpa, pressure precision ±0.1Mpa.

● Operation temperature can be adjusted in the range of 0-200 ℃, temperature precision ±2℃.

● Thermal platens flatness:0.05mm, parallelism: 0.05mm.

● Each opening can work independently.




Cooling System:

● Pressure range:0-16Mpa, pressure precision:±0.1Mpa, can be adjusted in the range.

● Cooling platens flatness:0.05mm, parallelism: 0.05mm.

● Platens adopt stainless steel and aluminum materials to avoid any rustiness.




Auto unloading System:

● To receive the trays with materials from cooling tower automatically.

● Lifting platform conveys trays with materials from discharge shelf to roller transmission belt.

● Discharge shelf is on the right of the cooling tower, each opening is equipped with cross-feed convey roller for conveying.




Auto convey system:

●Roller transmission belt is used for conveying of trays with non-laminated or laminated materials.




Lay and take out material System:

● Convenient for taking out the materials manually.

● Suitable for different size of steel plates and laminating materials.

●Tilt table makes it easier for worker to lay the materials onto the trays.




PLC control system,data management system:

7.1 English and Chinese operation menu with strong power of data management, including pressure,temperature,time and production data.

7.2 It can store each batch of production parameters, temperature, pressure, time, etc. It has the function of image curve;

7.3 Can detect faults, detect machine performance, alarm and display fault location;

7.4 Display the working status of each unit;

7.5 Chinese user interface, Windows operating system pla

Model

WENLIN-Smartlam7500B-8 card laminator








Cooling Method

Water Cooling








Heating Method

Electric Heating








Pressure Stages

Heating 12 stages/cooling 5 stages








Pressure Precision

士0.1 MPa








‍

‍

‍

‍

‍

‍

‍

‍

‍

‍

‍

‍

Temperature Precision

0-200℃ 士2(℃)








Plate Smoothness

士0.05mm








Laminating Plate

Aluminum Alloy








Hydraulic Cylinder

4 for each tower








Pressure

0-16Mpa








Laminating Plate Size

600mm×750mm








‍

‍

‍

‍

‍

Opening

8








Opening Space

60mm








Plate thickness

48mm








Electric

380V ,50/60HZ, 80 KW








Dimension

L4,900* W 3,670* H2500mm








Output

About 22000 cards / hour