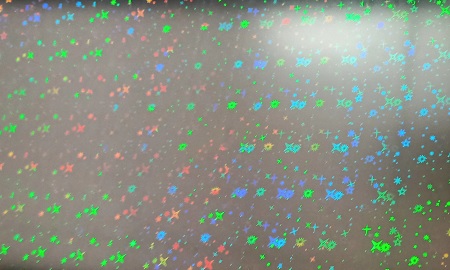 Star Shaped Laser Film
Star Shaped Laser Film
Brand: WENLIN

---
Specification:210*297mm( special size can be customized)
---
Application: Suitable for high-end membership CARDS, VIP CARDS, platinum CARDS, diamond CARDS and can be made into IC CARDS, ID CARDS according to the requirements
---
Star Shaped Laser film is also known as laminating film, the main ingredient is polyvinyl chloride, it is on the surface of PVC film coated with a layer of thermosol, so that it and PVC card printing sheet or basic PVC material has a good adhesion effect.The main function of the tape film is to cover the upper and lower layers of the PVC card.




After the heating and pressure of the laminating machine, the PVC card can form a very bright and clean surface, and can play a very good protective effect on the printing content, effectively prevent the card surface from being scraped and scratched.




PVC laser aluminized film: mainly used in screen printing, offset printing, gravure printing and other packaging products.




Suitable for high-end membership CARDS, VIP CARDS, platinum CARDS, diamond CARDS and can be made into IC CARDS, ID CARDS according to the requirements.




Product name: laser star - shaped laser film

Packing: 210x297mm 500 pieces/package 4000 pieces/box

Technical features: mainly in screen printing, offset printing, gravure printing of various packaging products

Thickness range: 0.08mm, other customized sizes

Laminating temperature: 110℃ ~ 150℃

Storage conditions: light loading and unloading, storage at room temperature, stacking height less than one meter.

Warranty period: one year

Gauge: 210*297mm(special specifications can be customized)

External view: the surface is smooth and clean, without obvious mechanical impurities and non-uniformity.