New Products PVC laser film with glue and laser card material
2020-10-15
Laser card refers to the use of a kind of laser PVC material after printing from different angles have the feeling of flashing gold, and also can be emboss laser silver or laser gold on the surface of ordinary PVC card .When take out your card and show it to others, you can improve the image of the company and give people a noble and elegant feeling. Thus won the favor of more and more businessman, There's a change of patterns on the card , showing a variety of colors, can show special reflection in any part of the card changes, has a good visual effect, and also can enhance the anti-counterfeiting and anti-scanning copy function of the trade card, so that the circulation of the trade card more secure. Laser card including multilayer structure, including the core layer, upper and lower layer are transparent membrane layer, pattern printing layer which set in one or two layers of the transparent membrane layer, located between the core layer and transparent membrane layer. Between the core layer and pattern printing layer lays laser pattern layer. The laser pattern layer presents a special pattern which reflectively changed in any part of the card with the change of visual angle and light, so the laser pattern layer is an anodized layer with a laser pattern.。
Advantages
1. Good directional
2. High brightness
3. Good monochromatic
Products Process
Laser effect: whole laser and parts laser, different laser materials and patterns, different visual effect。Customers can choose according to the effect.
Card printing material is special laser PVC material, colorful, high-end gorgeous, distribute to customer to highlight the personality, is the first choice of high-end membership card, VIP card, can do a full version of laser or parts laser effect.
Laser card, adopts Korean imported laser materials, by special treatment, color printing to achieve parts or full version laser effect, the part of the laser gorgeous and colorful, and also can do parts laser marking effect.
Suitable for high-end membership cards, VIP cards, platinum cards, diamond cards and can be made into IC cards, ID card according to the requirements
In order to meet the needs of customers around the world, Wenlin technology laser film with glue and laser card materials officially on sale, welcome new and old customers to call and email to inquire. Special design can be customized.
The following are common patterns of PVC laser film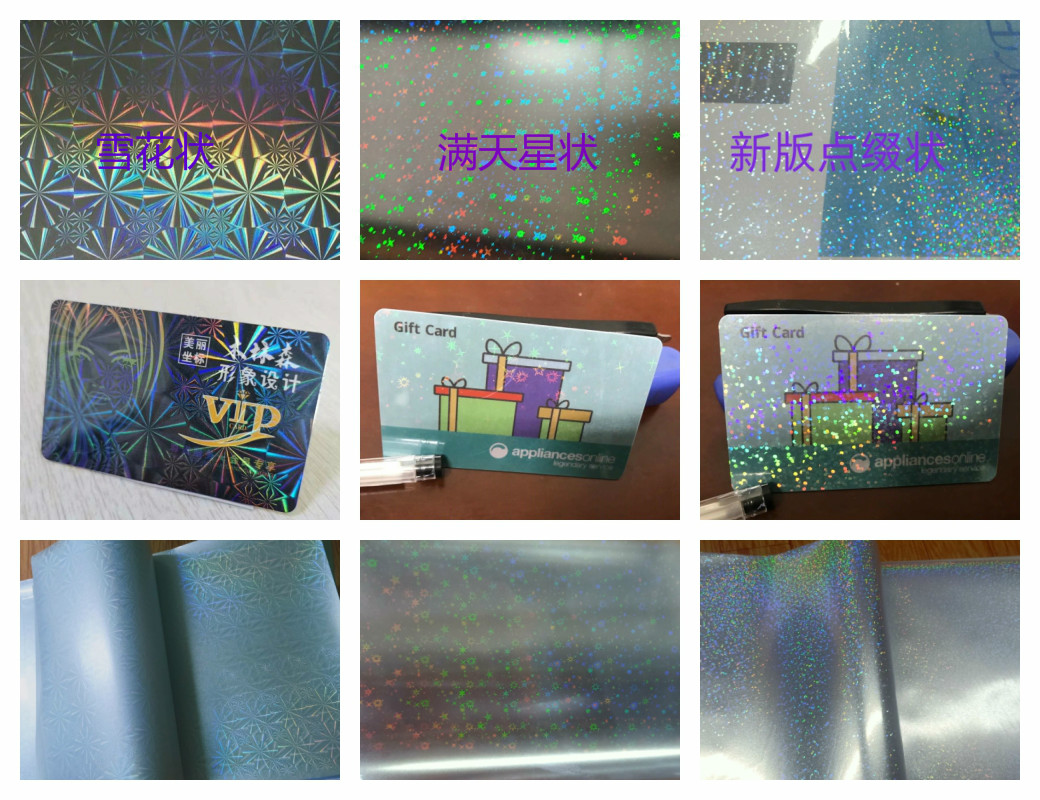 The following are common patterns of laser card printing materials