Wenlin specialized in card making machines for 20 years, and new generation of 20th anniversary card making machines has been launched.
Part Ⅰ:
20th anniversary card making machines laminator-WENLIN-FA3000-2A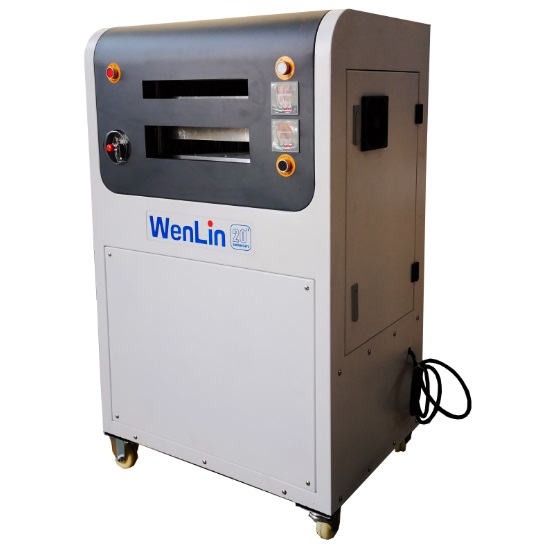 WENLIN-FA3000-2A laminator is a housekeeping model of Wenlin's personalized laminator. It has been produced for more than one thousand sets in 15 years and has customers all over the world. It is the most hot-sale model of automatic hydraulic series,and has good reputation in the marketing.
The 2020 FA3000-2A laminator is upgraded from the original 3000-2 to the 2019 FA3000-2A, integrating customer feedback and practice, and continuously optimizing.
The 2020 year anniversary machine FA3000-2A laminator not only adopts Wenlin's new family appearance (the entire appearance has been patented) design, beautiful and elegant, with WENLIN and the 20th anniversary special logo.
New parts of the new model have been redesigned to make up for some of the previous old models' shortcomings. It is more convenient to use and more stable in performance. In particular, Wenlin pressure plate temperature compensation design has been added. It is widely suitable for advertising companies, large card factories to make up cards, and proofing tests before printing. It can be used in the office of users of various personalities.
Mobile casters are convenient for mobile handling and more humane;
The latest design structure has better refrigeration effect and more convenient operation;
The cooling rate is nearly doubled, and the efficiency is higher;
High-end appearance design is full of personality.
Technical Parameters:
★ Voltage: 220V /50HZ
★ Power: 5650W
★ Number of layers: 2 ~ 30 layers
★ Packing size: 1000mm × 800mm × 1550mm
★ Lamination size: 210 × 297mm
★ Production efficiency: ≥1200 sheets / hour
★ Gross weight: 350kg
Part Ⅱ:

20th anniversary card making machines laminator—WENLIN-FA3000-8
WENLIN-FA3000-8 Intelligent Laminator is One of Wenlin's 2020 upgraded laminators. This laminator is suitable for batch production of various personalized inkjet, digital portrait cards, exhibition cards, IC, ID smart cards, Billboards, menus, etc.
WENLIN-FA3000-8 is an upgrade machine from the original WENLIN-FA3000-4, and the number of layers is doubled, which is suitable for batch middle and upper customers.
1. PLC industrial automation control, intelligent human-machine touch screen interface setting, temperature and pressure precision segmented design, more suitable for the production of IC / ID Inlay lamination, more convenient operation, humane;
2. Double tower cold and hot split structure, more stable performance;
3. Four cold and four hot, double the working efficiency, save power and energy;
4. Temperature compensation function, perfect lamination effect.
Technical Parameters:
★ Voltage: 220VAC 50HZ
★ Power: 6.8KW
★ Number of layers: 8
★ Pressure mode: hydraulic pressure (12-stage pressure)
★ Packing size: L1,250mm × W900mm × H1,550mm
★ Lamination size: 210 × 297mm
★ Production efficiency: ≥3200PCS
★ Gross weight: 650kg