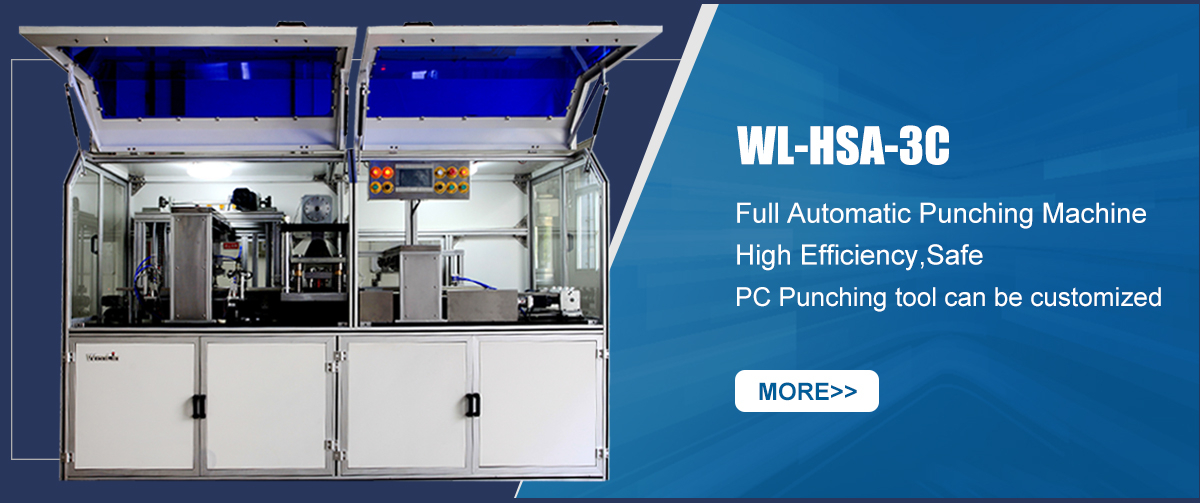 WENLIN-HSA-3C/4C/5C fully Automatic card Punching Machine with high speed productivity of 16000-24000 cards per hour, which adopts PLC industrial automation controlling, this automated technology can realize automatic feeding. This good price card die cutter can be used for punching plastic card, PVC card, ID card, IC card, bank card, credit card, loyalty card, VIP card, hotel card, inlay sheet. High-quality servomotor and high precision ball screw as well as linear guide are adopted. High sensitivity photoelectric recognition device reads the position marks for precise and reliable positioning.
The mould of WENLIN-HSA-3C/4C/5C ID card punch machine is made by imported mould steel. The power adopts high power servomotor as the power source in order for strong punching capacity and adjustable speed. The advanced card conveyer structure and alternate feeding and discharging functions of double servo screws realize fast speed and high efficiency.
The card collecting uses three separate card boxes and the scrap material border is automatically piled up and collected by manipulator. This machine has a real time monitoring of repeated cards and output cards detection.If anything unusual happens, the machine will stop automatically and give an alarm with fast speed and accurate positioning. The whole process is monitored by sensor for convenient production,safety and reliability, automatic feeding,automatic card separation, automatic card separation and scrap material collection function for labor cost saving and high efficiency.