20 CM FRENZY ! DIGITAL ECONOMY PROSPERITY
Today (February 9) the three major indexes rebound, digital currency took the lead banner, the plate set off limit frenzy, Cuiwei shares and Hengbao shares 4 consecutive board, innovation technology, Xiongdi technology and many other shares 20CM limit; Xinguo, Tianyang Technology, Xinkaipu and other shares rose more than 10%; Guangzhou KINGTELLER shares, hailian jinhui and other shares 10CM raise daily limit.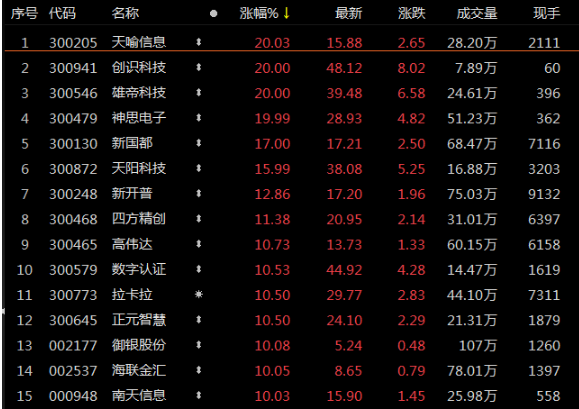 According to China Business News reported that the People's Bank of China, the State Administration for Market Regulation, China Banking and Insurance Regulatory Commission, China Securities Regulatory Commission issued the "14th Five-year Development Plan for Financial Standardization", which mentioned that, steadily promote the development of legal digital currency standards; We will explore the establishment and improvement of legal digital currency infrastructure standards by taking into account secure and trusted infrastructure, issuance and storage systems, registration centers, payment and transaction communication modules, and terminal applications.
Foreign investment: 1.2 billion to buy 17 shares
Oriental wealth Choice data show that according to the average price of the transaction and the number of additional shares estimated, northbound capital total net purchase of 17 digital economy concept stocks this year, the net purchase amount of more than 1.2 billion yuan.
Among them, Westone is the most popular northbound capital, with an increase of more than 300 million yuan; yusys Technology, Guoxin Micro, Bonc and other companies have increased their holdings by more than 100 million yuan.
Beijing North, CSII, the New Land, Sinosoft, YSSTECH, Guangzhou Radio and Television express, Feitian and other holdings of 90 million yuan to 20 million yuan.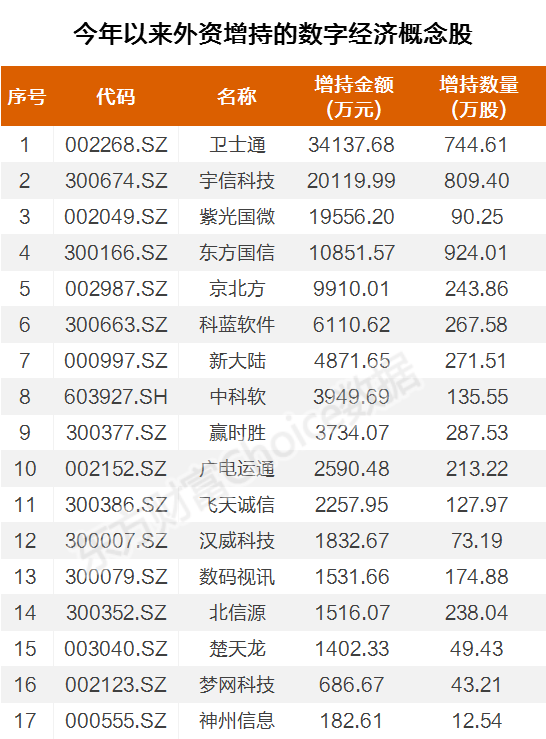 Dragon and Tiger list: 250 million bet in 20CM cattle
Oriental wealth Choice data and show that dragon tiger list funds have layout of digital economy concept stocks, from today's stock price performance, eat more than the limit.
  Among them, Synthesis , which recorded a 20CM trading limit today, bought more than 250 million yuan, ranked second Inspur 230 million yuan.
  The net purchase volume of dragon and Tiger lists, such as Oriental Guoxin, Asian Union Development and Digital Zhengtong, all exceeded 100 million yuan. Tianyuan DIke, Desheng Technology, Strait Innovation
Tianyu, invengo is 90 million yuan to 30 million yuan.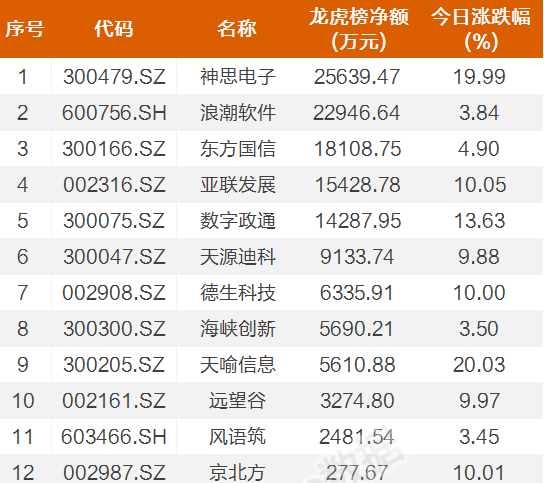 Interestingly, Invengo accidently Caught up in the Olympic heat and called Guailing stock, as of February 9, invengo is 6.84 yuan/share, after opening has risen to 25.27%, shares reached nearly a year high.
Leveraged capital: most favored Oriental Guoxin
Eastern wealth Choice data also shows that the sense of smell of leverage capital this year since the net purchase of 11 digital economy stocks.
Among them, Oriental Guoxin was the most favored, financing net purchase of 180 million yuan; Followed by Inspur software, financing net purchase of more than 120 million yuan; Jinzheng Shares, Shenzhou Information, China Great Wall, Yinjiang Technology, Invengo financing net purchase amount in 80 million to 40 million yuan.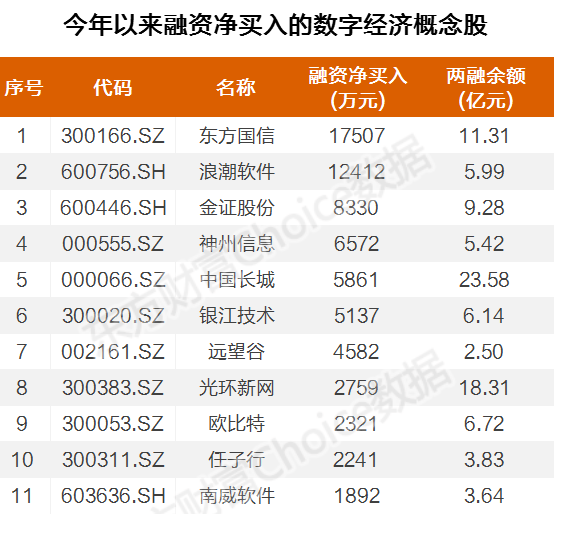 Interactive platform inquiries frequently
On message. By the end of 2021, there were more than 8,085,100 pilot digital RENMINBI scenarios, six times the number six months ago, according to the latest data from the central bank. According to the official data of Beijing, by the end of 2021, more than 12 million digital RMB personal wallets and more than 1.3 million public wallets had been opened in Beijing, covering more than 400,000 scenes of the Winter Olympics including food, accommodation, travel, travel, shopping, entertainment and medical services, with a transaction value of 9.6 billion yuan.
As the popularity of digital currency soared, investors frequently asked related listed companies whether they had related businesses on interactive platforms.
For example, Star Ruijie responded to investors on February 9 that centerm information, its wholly-owned subsidiary, was actively participating in the digital RMB pilot work of major banks and promoting the implementation of application solutions for relevant industries.
Another example is Sifang Jingchuang. The company actively promotes the application of digital RMB payment, digital RMB red envelopes, digital RMB consumption coupons and other modes in sports and other scenes with its customers.
However, there are also market people remind investors that the digital economy is more inclined to thematic investment, logic is not like lithium, photovoltaic and other track stocks so hard,
  For example, 20CM daily limit for two consecutive days of male emperor technology. According to Jiemian News, the company's science and technology securities department staff said that the company's digital currency is mainly used in public transportation places, digital currency is only one of the payment methods, the company's current performance, the contribution is not too big.
Agency: Recommend the layout of which tickets
  Of course, sell-side institutions remain bullish on the medium - and long-term prospects for digital currencies.
  According to a recent report of China Merchants Securities, the attitude of the world's major central banks to digital currency has been clear, the global consensus to promote the innovation of central bank digital currency is forming, and the digital currency of central bank is expected to become another certain track after carbon neutrality. In the new currency race, China has a head start. It is reported that according to a report released by SWIFT, the share of RMB in international payments surpassed that of Japanese yen in December 2021, ranking the fourth.
  China Merchants Securities said that after the Promotion of the Winter Olympics, the digital RMB will further become familiar to the market, and its industrial chain enterprises and traditional banking industry will benefit from it. On the one hand, digital RMB hardware equipment vendors will benefit from the market opportunity brought by digital RMB hard wallets, while software developers will benefit from the business growth brought by the upgrading of banking systems at home and abroad. On the other hand, the cross-border application of digital RMB will also benefit the traditional business of banks through "spillover effect", especially retail payment, foreign currency exchange and cross-border remittance.
Source: Oriental Wealth Research Center